Another great DC weekend
This is another one of those weekends that makes me so happy to be in DC.  There are so many great things happening here, it's hard to keep track!
Here are a few things I'm going to do my best not to miss:
Friday.  Brightest Young Things is throwing another Night at the Newseum bash!  If you like seeing the hottest young dc-ites in one of our greatest museums, this night is for you.
*UPDATE* Just found out about the opening of Bill Cunningham New York at E Street tonight.  If you love fashion and have ever read the Sartorialist blog, you will love this documentary about the original sartorialist.  Or at least, so I hear!  Thanks to Capitol Fashionista for the tip!  I may go to an early showing after work!
Saturday.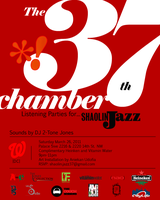 Shaolin Jazz (the name alone makes the trip worth it).  A free listening party featuring complimentary Heineken, an art installation by Aniekan Udofia and a blend of a cappella rappers from Wu Tang and jazz instrumentals.  Can you say Amazing?
Sunday.  AdMo PopUpShop!
I am a girl who loves a pop up shop and here's yet another fabulous one right in my favorite neighborhood!  Featuring unique items from local indie artists, I'm sure to find more things I love than my wallet can handle.
These are definitely my top three events of the week, and along with a birthday party, an alumni club tour of the Corcoran, a brunch, a meeting and a book club, I think I'll be too exhausted to go to work on Monday!
Isn't that the way it should be?
What are you doing this weekend?
AGinDC
2 Responses
Great for article. I will keep more interesting publications. Been following blog for five days now and I should say I am beginning to like your post. I need to know how can I subscribe to your blog?

Thanks! You can subscribe by either of the methods on the right side of the screen- either RSS or through email. =)